---


SWEETGRASS (Hierochloe odorata) grown by our customers, around the United States, alphabetically by State.
SWEETGRASS STATES on this page = N-W
See SWEETGRASS STATES A-M here

Redwood City Seed Company, Box 361, Redwood City, CA 94064
(650) 325-7333. Photo credits noted, and are licensed for use on this web page from the copyright owners by Craig & Sue Dremann, and cannot be used or reproduced without written permission.
---

NEW JERSEY grown by Alice Miller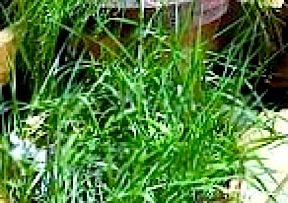 ---
NEW YORK grown by Kathleen Kern: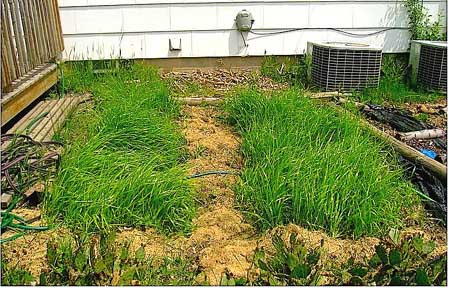 Sweetgrass summer 2008, plants getting started.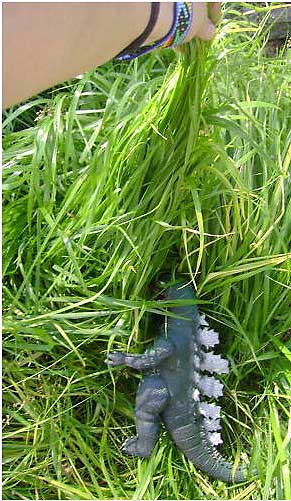 Sweetgrass May 2010, Godzilla is 14 inches tall.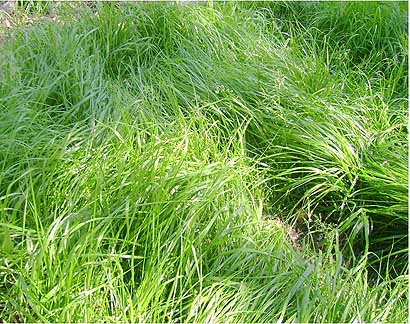 Sweetgrass May 2010.
[Craig Dremann adds: Dried sweetgrass harvests are available seasonally on her eBay store, seller=kkausten]
---
NORTH CAROLINA grown by Sam and Gerry Martin. CONTACT Cell = 910-571-2520
Home phone = 910-428-2066 or at my wife's email for the bulk dried by the pound.
We have pounds of dried bulk sweetgrass that we harvest June to September each year.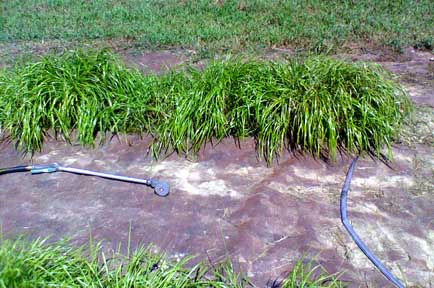 Plants purchased in April 16, 2008, put in pots and May 7th they were put into the ground. This shows different stages of cutting. We are averaging four braids per plant, 16 to 20 inches long and by the end of August had produced about 100 braids, but we are now only producing dried bulk by the pound.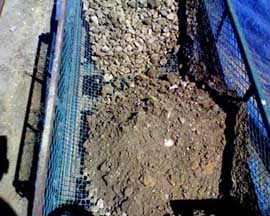 We had to dig a trench about 6 inches deep, and take out the clay and then sift the rocks from the good soil, and that was amended with perlite, sand and potting soil.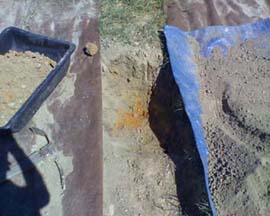 Only organic fertilizer being used--blood meal, bone meal and fish emulsion.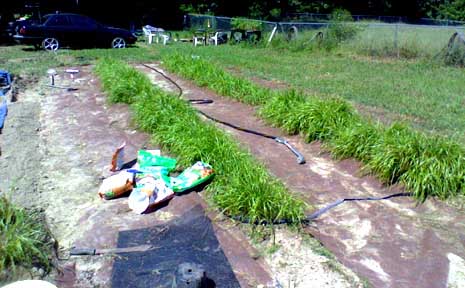 Two original rows, and a new row being prepared and planted on the left, and bags of perlite, potting soil and fertilizers can be seen. [Craig Dremann adds: Notice the four foot wide weedstop fabric between rows, like the design on our web page for large-scale plantings].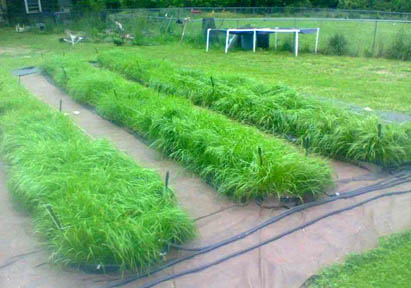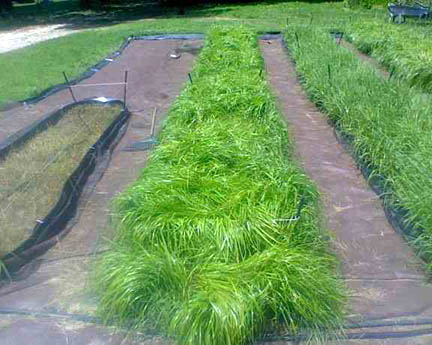 Update June 2013: Sweet grass is coming along. This is six weeks of growth by June 2013. The sweet grass cut three weeks ago, some have grown back to 22 inches. Thank you for all your help many blessings and much respect. The sweet grass in the un-cut rows is up to 33 inches. Last photo shows a recently harvested bed to the left.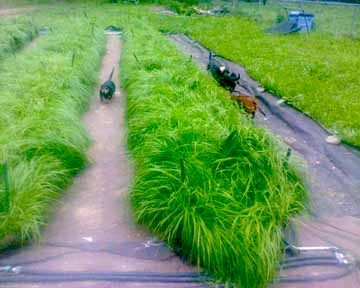 Update May 2014.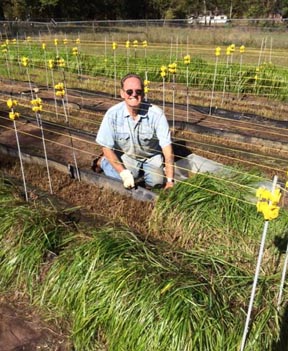 Summer 2015 - Sam cutting the rows, this year put up strings to keep the leaves off the ground.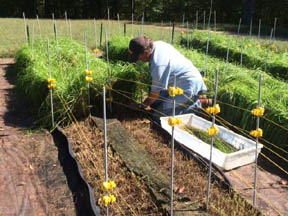 Sam recommends, his rows were allowed to grow 40 inches wide, and he suggests no wider than one foot. You can see the board put down the middle, to divide the 40 inch wide row.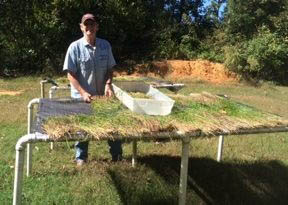 Sam's drying table made with PVC pipe that can be put up and taken down each year.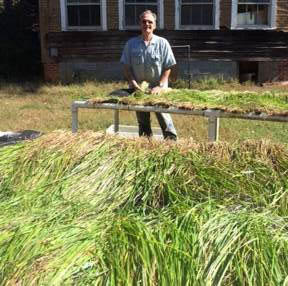 A good harvest in 2015 on the drying tables.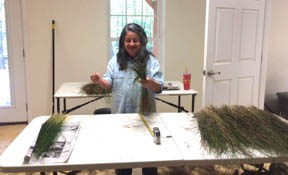 Gerry Martin sorting the dried sweetgrass.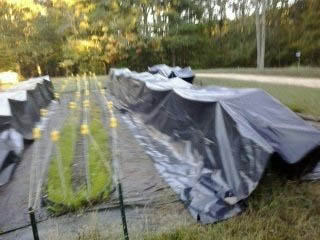 Getting cold at night, so plastic over the beds that still needed to be cut.
UPDATE May, 2017, below---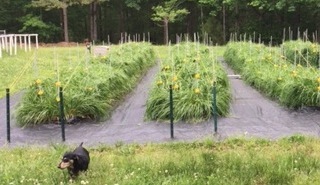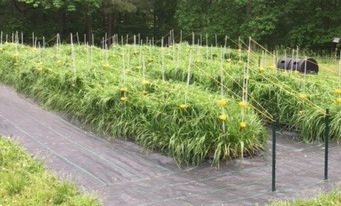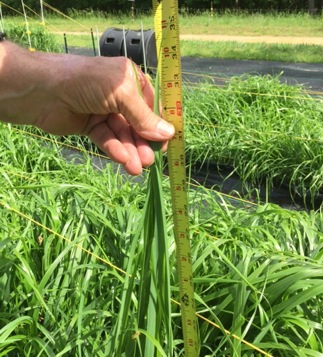 Already 36 inch long leaves by May 1st of the Supershamanistic™ plants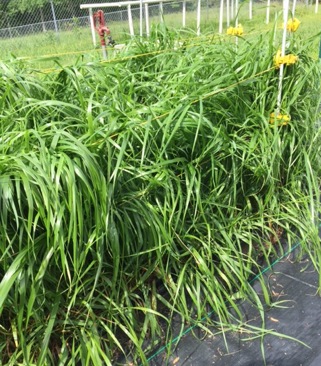 ---

OKLAHOMA grown by David Keffer: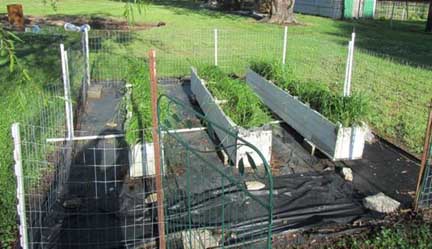 Plants grown in window boxes during the summer.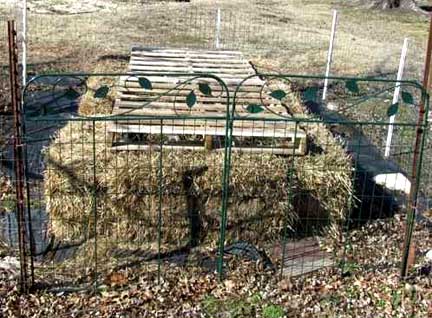 In winter, the boxes packed together, surrounded by straw bales, and wood pallet on top.
I wanted to give a status report on the 20 Super Shamanistic sweet grass plugs we got from you last spring (4/16). All plugs arrived in good condition and we potted them per your wonderfully detail instructions. All plants flourished and were transplanted into their three permanent planter boxes after about four weeks.
They all did great and gave us 2 wonderful harvests last summer. As winter approached we researched your site for the various methods of helping the plants survive our sometimes extreme winters here in northeastern Oklahoma.
I finally decided to bring the three planters together side by side and surround them with straw bales as seen in the first photo. I was concerned about covering the plants with some kind of mulch and possibly smothering or choking the plants. What I did was place two wooden pallets over the plants across the straw bales.
This configuration seemed to provide two conditions that helped the plants survive our winter which included a few sustained events of subfreezing weather down to as low as17 degrees. One stretch of six straight days of this weather even froze our house plumbing.
The straw bales seemed to protect the plants from the harsh temperatures and at the same time generated their own heat from their decomposition in the process. The pallets "hovering" over the tops of the plants seemed to create a micro environment not unlike that of a terrarium that also benefited from the heat from the straw bales and the protection the palletís lattice works provided from winds, snow and cold temperatures.
At any rate all seemed to work wonderfully and all 20 plants have responded to our spring with great enthusiasm as seen in the second photo.
We look forward to at least three harvests this summer. Our fresh sweet grass braids, sachets and bulk grass for basket weaving etc. is proving to be very popular here in Oklahoma Indian Territory.
---
OKLAHOMA grown by Sharon Owen: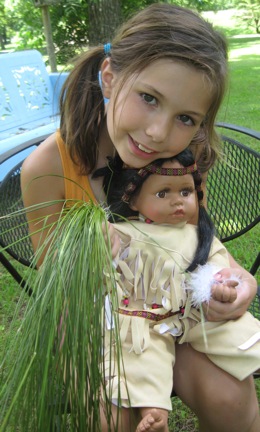 Photos of one of my grandkids with her doll - both girls helped dry & sort & braid the sweetgrass that day.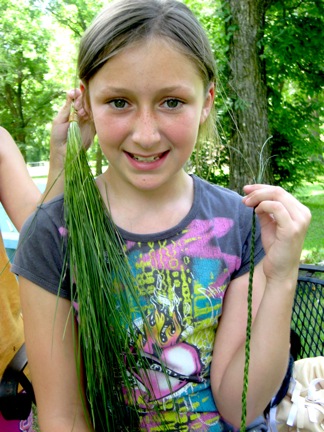 As you can see, they also wore some of the sweetgrass - in bundles & in braids. The kids made little-bitty sweetbraids for their hair & their dolls.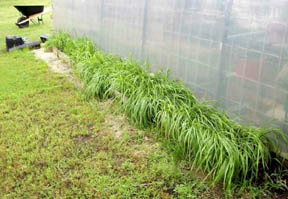 We also hung some little braids and/or tiny bags of broken pieces on our vehicles' rear view mirrrors. We didn't care how long the scent lasted - we love the smell no matter what. It beats the old felt pine tree air fresheners!
---
2015 update: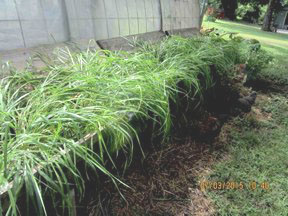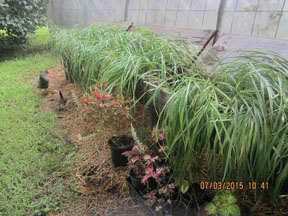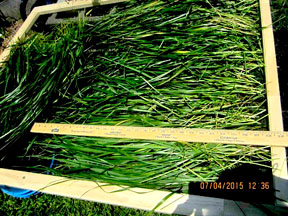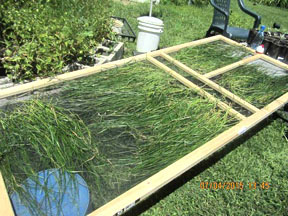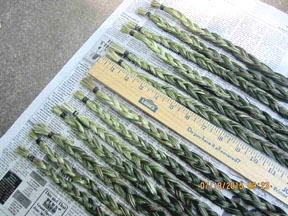 Osio! (Hello in Cherokee) Good afternoon from the Northeast Oklahoma hills. This is Sharon Owen - MoonShadow Herb Farm - Muskogee OK
I have some photos of the baby plugs you sent to me in the spring of this year. They are in 3 ammo boxes elevated on concrete blocks - in the area where my old bed of sweetgrass once grew along the small greenhouse.
First harvest was July 4th weekend.
I have been fertilizing them on each new moon. I think this month (Sept) will be the last month for that this year.
I supposed I should do a 2nd harvest soon before it really does get to be Indian Summer in full spring.
The grass is still filling up each ammo box - not real thick yet.
I 'asked' the grass about the coming winter months considering they are still working hard to get established. Could they weather the cold months elevated? The reply was confirmed - Set the ammo boxes on the ground for winter & heap straw around the boxes for insulation.
Here are some photos - Wado! (Thank you in Cherokee)
LUNA BOHEME -"Her beauty was that of a million sweet dreams, her eyes filled with stardust & her hair full of moonbeams."

---
PENNSYLVANIA grown by Ron Hoffman: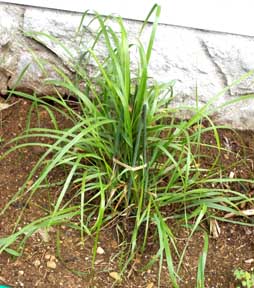 Picture above, taken three weeks after planting, in July 2009.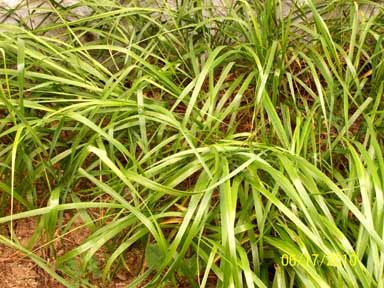 One year later.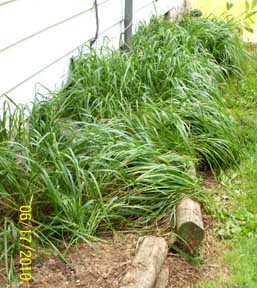 Sweetgrass plants about one year later, in June 2010.
---

VERMONT grown by Kathleen Venderboom: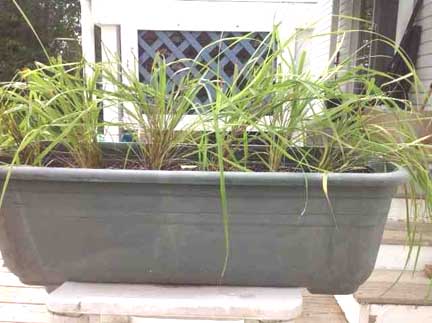 ---
VIRGINIA grown by Dan Shaw: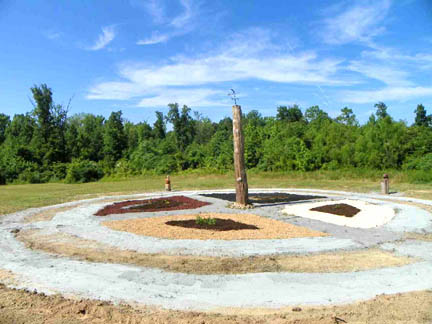 I got your sweetgrass last year when we began planning this large Cree Medicine Wheel herb garden. It's not finished yet but I wanted to send this photo before I forgot to. The diameter of the outer path is 64 feet. The center pole (Creator pole) is 14 feet. When it's complete there will be a raised bed of Indian herb plants between the two circular paths. I'm planning on building a dry stacked rock wall for the raised beds.
I've carved the four spirit animals from cedar logs to go along with the four sacred plants. Sweetgrass belongs in the eastern quadrant which is the foreground.
Here's more about the project: http://www.oldhalifax.com/county/Medicine%20Wheel.htm
---

WASHINGTON grown by Vicki Loiseau in Ellensburg:
I got the sweetgrass plants from you last spring (May 2011) and got 2 good cuttings from them. My goal in growing sweetgrass is to use it my pine needle basketry.I am hoping that my pictures can be added to your website to represent Washington state!
Sweetgrass plants waking up in March 2012. Over the winter I left them in their pots as they were buried nicely in my garden. They were mulched and made it through a rough, cold winter. As soon as we had some consistent, nice weather, I cut them and then transplanted them into their permanent home in my raised bed garden. They seem to love it there as they have really taken off.
In the middle of June, 2012, the plants have really grown and are spreading out nicely.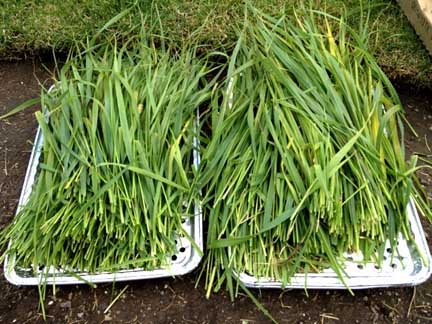 At the end of June I did my second cutting and here is a picture of the sweetgrass before drying. The grass measures 20-22" after only 30 days. The plants are very happy in their home here in Ellensburg. I have successfully dried the grass and the sweet aroma of the
sweetgrass fills any room that it is in!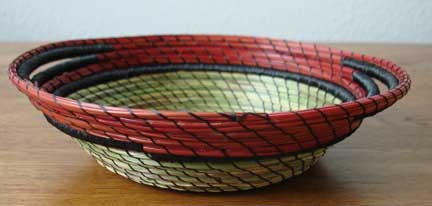 I am growing the sweetgrass for use in my pine needle baskets. I am also including a few pine needle baskets in which I have incorporated several coils of sweetgrass.

Scarlet red pine needles with green sweet grass make up this graceful pine needle basket. The Celtic center is laser etched into Baltic Birch wood and scarlet red needles surround it. The light green is sweet grass and the sweet grass gives the basket a sweet, fresh aroma. Black sinew is used to create a solid wrap and is used to create 'window' handles. Basket is oval shaped and about 8 1/2" wide by 7 1/2" and is 1 3/4" high.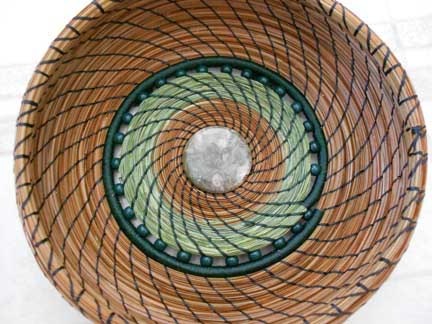 The baskets have a great, sweet aroma to them and are very eye-catching. When I sell my baskets at bazaars, the sweetgrass is quite a conversation piece! Center is a 1.5" round jasper stone. Basket is stitched with black sinew and dark green sinew is used to create the wrapped row surrounding the sweetgrass. The pine needles are Long Leaf pine from Florida. Basket is round and measures 8" by 1.5" high.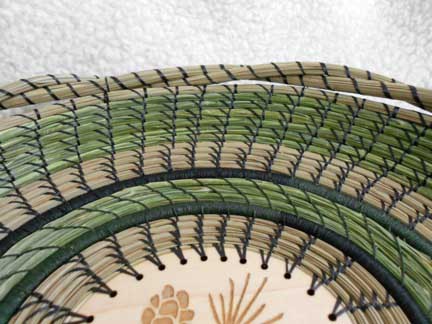 And the fact that I've grown it in my own garden adds to the uniqueness of my baskets. The pine bow center is laser etched into Baltic Birch wood and measures 3". The basket is stitched with dark green and black sinews. It is made from green dried pine needles from Ellensburg. Basket measures 9.5" by 1.5" high.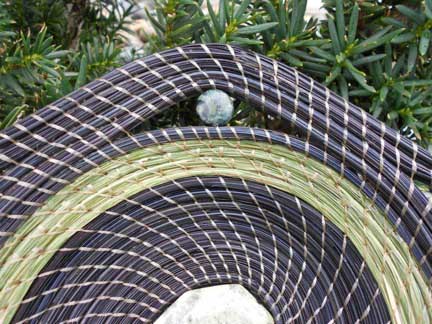 Four rows of Sweetgrass are inserted in this basket to add balance between the center and the green Jasper beads along the top edge. This basket is lovingly handmade from Longleaf Pine needles and local Ponderosa Pine needles from Ellensburg! Smell the basket to savor the fresh smell of sweetgrass grown in my Ellensburg garden! Basket is 8" in diameter and 1 3/4" high.
All four of these baskets have been sold!
You can find my baskets for sale at LaWhoDesign and at two retail locations here in Ellensburg, Washington: Gallery One in downtown at 408 North Pearl Street, and Wind River Gifts and Home Decor at 1714 Canyon Road.
---
We are looking for pictures for this web page, of our sweetgrass plants being grown in Nebraska, Nevada, New Hampshire, New Mexico, North Dakota, Ohio, Oregon, Puerto Rico, Rhode Island, South Carolina, South Dakota, Tennessee, Texas, US Virgin Islands, Utah, Vermont, West Virginia, Wisconsin, and Wyoming.
Call Craig at (650) 325-7333 if you have pictures of your sweetgrass plants for posting.
---

Updated April 29, 2017. - Main Sweetgrass web page here