---


Cooling a planet with Revegetation,
with special attention to the Arabian Peninsula, and a method to significantly increase water resources of the area.

---



Choices for the Arabian peninsula -- arid or abundance?

Left: Sultanate of Oman at 23N, 58E from the Confluence project
and Vegetation photo megatransect.
Right: Salalah in Sultanate of Oman from Oman Attractions.


---

By Craig Carlton Dremann - Native Grass Research No. 14
PART 1 of this web page is at http://www.ecoseeds.com/cool.html
PART 2 of this web page is at http://www.ecoseeds.com/cool2.html
---
RIVERS and LAKES in ARABIA!--See where two major rivers and two lakes were located: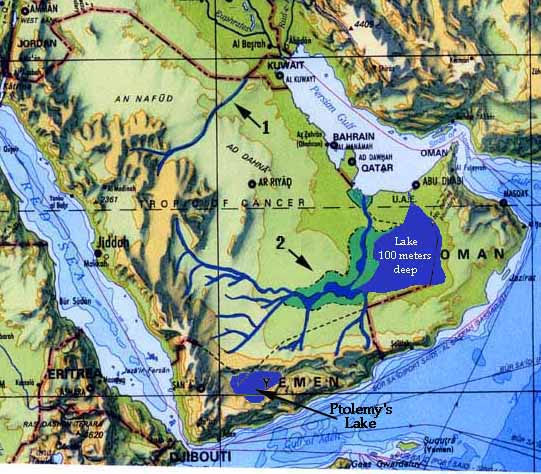 Two major Arabian peninsula rivers that could start flowing again, and two huge lakes that could start storing water again.

River #1 was 650 miles long, and averaged 5 miles wide and 50 feet deep along its entire length, was studied by Boston University scientist Farouk El-Baz in 1993. (DISCOVER, July 1993 "A river in the desert").
River #2, the Empty Quarter river and its associated lakes and marshlands, flowing through the southern Arabian peninsula, extrapolated from five sources:
Giant Lake, originally 100 meters deep (300 feet) can clearly be seen from Google Earth images.
Ptolemy's lake in Yemen.
Resources:

(1.) A NASA Landsat composite of Saudi Arabia made by geology.com posted at http://geology.com/world/saudi-arabia-satellite-image.shtml

(2.) An article about Aramco geologist Hal McClure's thesis, in a 1989 issue of Aramco World, "Lakes of the Rub' al-Khali" http://www.saudiaramcoworld.com/issue/198903/lakes.of.the.rub.al-khali.htm

(3.) Ancient riverbed locations from Dr. Abdallah E. Dabbagh (et al) at King Fahd University in Dhahran, "Geologic and Hydrologic Studies of Saudi Arabia Under the Spaceborne Imaging Radar-C (SIR-C) Science Plan" http://southport.jpl.nasa.gov/ProgressReports0496/Dabbagh.Final.html
especially the "Figure 11 - Pleistocene drainage of Arabian Peninsula."
http://southport.jpl.nasa.gov/ProgressReports0496/gifs/dabbagh11.gif

(4.) Philby, H. St. John B. 1933 book "The Empty Quarter: Being a description of the Great South Desert of Arabia known as Rub' al Khali" (pub. Henry Holt & Co. NY) on his chapter "Forgotten Rivers" and finding river beds with fresh-water shells.

(5.) Map Arabia Felice Nuova by Ruscelli, Venice 1574 edition, two versions of Ptolemy's map of Arabia, with one showing the lake in Yemen, that Ptolemy wrote about existing in Arabia. Yemen. Originally at http://www.helmink.com/Antique_Map_Ruscalli_Arabia/

(6.) Google Earth images.

Basemap is from "The World" 1998 scale 1:30,000,000 at the equator, published by the Dept. of Defense, National Imagery and Mapping Agency


---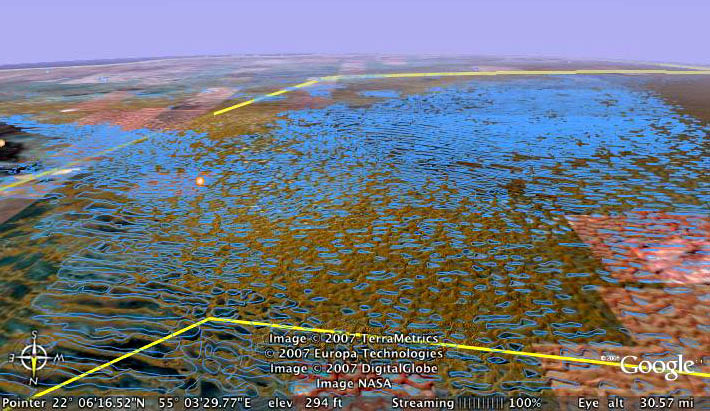 Ancient 6,000 year old, Empty Quarter lake bed, seen from 30.6 miles, Google Earth image. Looking from the UAE across KSA into the Sultanate of Oman.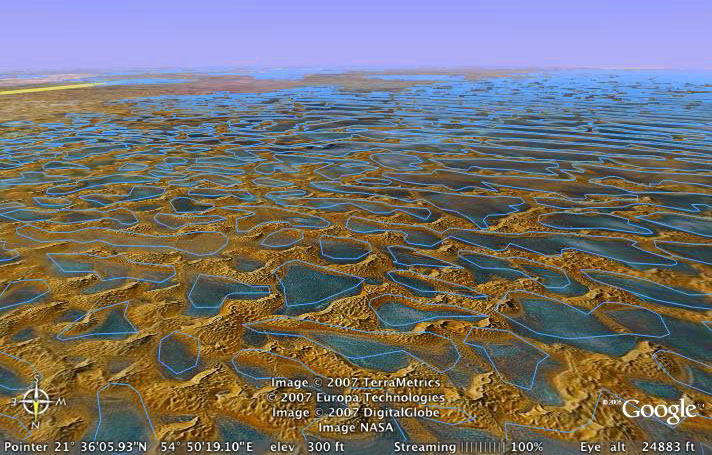 Ancient 6,000 year old, Empty Quarter lake bed, seen from 24,000 feet, Google Earth image.
---

ARTWORK about the return of the summer monsoonal rains: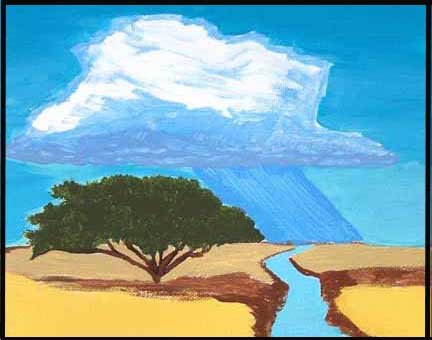 Title: "Design for a New Flag, for one of the desert countries located between India and Morocco, to start to harvest the summer monsoonal moisture that is passing over each season, by replanting the local native trees like the Acacia shown in the image, plus replant and protect the local native perennial grasses, to cool the soil surface, lower the atmospheric dust, and encourage the clouds to form, the rain to fall, and the streams to flow again."
Digital image, taken from the 8" x 10" acrylic on canvas. Painting #20 in catalogue. Copyright image and text © 2012 by Craig Carlton Dremann, all right reserved.
---
Updated Decemner 23. 2022 - The Reveg Edge Ecological Restoration service.