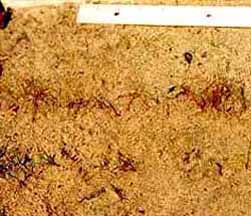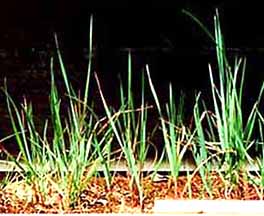 Direct sowing with natives, failure or success within three months, why?
---
THIS EXERCISE IS IN FOUR PARTS:

TWO TEST PLOTS of Great Basin soil from the same site are shown above in flats. Both flats were sown with the same batch of locally-collected Great Basin native grass seed on the same day, at the same sowing rate and depth, with no pretreatment of the seed in either flat. The photos above were the results three months later.

Both flats had been side-by-side and received the same amount of sun and water, but in the flat on the left, the seeds sprouted and grew, and then died. Something else was done in the box on the right that contributed to the successful outcome of the test plot, determine what it was and answer the following questions:
1. WHAT ADDITIONAL FACTORS MADE THE DIFFERENCE BETWEEN FAILURE AND SUCCESS OF THESE TWO PLANTINGS?
2. IS THERE AN EASY METHOD TO IDENTIFY THE SEEDLINGS THAT GERMINATED IN THE SECOND FLAT? What process can you use to identify the seedlings that have come up? Are they weeds that were in the soil or are they the native grass seeds you planted?
3. WHAT OTHER USES AND GOOD INFORMATION CAN EX-SITU TEST PLOTS, LIKE THE ONES SHOW ABOVE, TELL YOU?
4. IF WE HAD SEEDED the equivalent of 200 pounds of seed per acre and constantly irrigated the first test plot, why would have still had ZERO SEEDLING SURVIVAL?
---
Photos copyright © 1995 and text copyright © 2000 by Craig Dremann, The Reveg Edge, Box 361, Redwood City, CA. 94064 USA
"An example of ex-situ test plots to troubleshoot success with natives."
The URL of this page is www.ecoseeds.com/good.example.html.
---
Updated December 20, 2022 - Go to The Reveg Edge website