---


Redwood City Seed Company - Catalog Supplement - Spring 2019
WE BEAT THE REAPER® ! >>the 1,662,000 Scovilles for Craig's Champion™!
-- For peppers from Brazil>>>Click HERE
---
Our Catalog Supplement lists seeds not in our printed catalog. Pictures and text are Copyright © 2018 by Craig Dremann, all rights reserved including the web. EACH PACKET contains 100 seeds, except for Craig's Champion™ which contain 20 seeds. "Craig's Champion" is a trademark owned by the Redwood City Seed Company.
Box 361, Redwood City, California 94064 USA - Text and images Copyright © 2018 by Craig Dremann

FAX your order to (650) 325-4056 or mail in with check or money order, or order over the phone with a CREDIT CARD for orders over $25 -- CALL 650-325-7333 - Use DISCOVER, MASTERCARD or VISA.

---

USA customers: Craig's Champion ™ is SHIPPED FREE, as are the PEPPER COLLECTION and DRIED FLAKES. Other seeds, please add $5 for the first packet, and 10 cents for each additional seed packet for postage. California customers, no sales tax. (HS) = Craig Dremann's Hotness Scale™.
(HS: N/T) means this variety has not been tested for its heat levels yet.
---
--CRAIG'S CHAMPION™ Chocolate Habanero pepper (C. chinense). The old record for Smokin' Ed's Carolina Reaper® has now been eclipsed by Craig's Champion™ at 1,662,000 Scovilles, after a lab test of a composite of 10 dried peppers, and Guinness has been notified for confirmation.
Plants grow to four feet tall and 2-3 feet wide, but can grow to 6 feet or more if fed with one cup of liquid fish fertilizer mixed with a gallon of water, plus a hand-full of bone meal watered into the soil surface once a month during the growing season. Fruit ripens to a deep chocolate color about two inches long by one inch across.
This new variety is not a cross or a hybrid, it is a "sport", which is the same method Luther Burbank used to discover all of his new varieties, and the same method used in the 1800s in France by the seedsman Vilmorin to develop the sugar beet. Also, the Navajos in New Mexico use this method to produce the sweetest melons. Being a selection instead of a cross or hybrid, you can save your own seeds from your garden if you choose.
DO NOT eat the whole fresh, as the results could be dangerous to fatal. NEVER offer it to anyone to eat, as a joke, because that joke could end up in an emergency room visit or death. SEEDS ONLY SHIPPED TO USA CUSTOMERS. Buyers agree to all of the terms of sale that are listed at the back of each seed packet.
PACKET (20 seeds) $10 FOR FIRST PACKET, and $5 for each ADDITIONAL PACKET, SHIPPED FREE


---
-- BRAZILIAN RED GIGANTIC HABANERO (C. chinense) Fruit 3" long and 1.8 inches wide, maybe the biggest habanero on the planet. (HS: N/T) PKT. $5
-- CAYENNE SWEET (C. annuum) Originally from Turkey, one of the most productive sweet peppers, known in Turkey as "Corbaci" with long narrow pods up to a foot long. Pickled whole or cut fresh into "pepper rings" for salads, very productive. (HS: 0) PKT. $5
-- CHOCOLATE CHILE (C. annuum) This pepper is NOT chocolate colored, it is a long narrow red fruit and is called "chocolate" because in Hermosillo, Mexico this is the variety to use with chocolate mole sauce and for mixing with chocolate drinks. Pods 3.5" long and 0.3" across. (HS: N/T) PKT. $5
-- NEW MEXICO 6-4 (C. annuum) Pods 4-5" long and 2.5" wide, mild used for drying, and old New Mexico Hatch favorite and heirloom, for making chili powder. (HS: 3f) PKT. $2
-- TEPIN FLAKES. The dried flakes for eating, with the seeds removed, harvested from the wild plants from the desert in Mexico. Becoming one of the world's rarest peppers, because it is not grown on farms, and the need to hand harvest in the desert during the fall harvest season, when the daytime temperatures are above 100 degrees. Fruit red, round 0.3 in in diameter. Put in a black- pepper mill and course-grind onto the surface of dishes like barbecue, produces little explosions of heat as you eat the food. Flakes keep indefinitely if refrigerated. (HS: 20,000-64,000) Shipped Free. One OZ. $10, 1/4 pound $35, 1/2 pound $60, One pound $110
---

---PEPPER SEED COLLECTION - Craig's Champion™ plus 24 others from 2018. This is a special collection of different pepper seed packets from the last year, and this year we have 24 kinds plus one packet of the new Craig's Champion™ Chocolate Habanero. Comes in a plastic ziplock bag so you can store the seeds in your refrigerator before and after sowing, to keep the fresh longer that way. Better than storing pepper seeds either frozen or at room temperature. COLLECTION $40 shipping free.
---
-- SUMMER SQUASH Bennings Green Tint Scallop (C. pepo) Pale green pie-shaped fruit with scalloped edges, 2" thick and 3-4 inches across, from about 1914. Tender and sweet, never bitter, The most easy to grow of all of the summer squashes, produces prolifically. PKT. (25 seeds) $2
---
--MUSTARD FLORIDA BROADLEAF (Brassica) Matures 50-60 days, large upright 16-24 inches tall leaves, tender mid-ribs popular in the South. PKT. $1
-- WATERMELON CAL SWEET (Citrullus vulgaris) Fruit 18 x 21 inches 20-30 pounds, dark green with light green stripes. bright green flesh. PKT. $1
--WATERMELON DIXIE QUEEN (C. vulgaris) Fruit 12" x 16" 30-50 pounds bright red flesh, almost seedless, developed before the 1930s. PKT. $1
--WATERMELON KLECKLEY SWEET (C. vulgaris) Dark green rind, oblong fruit 20-40 pounds very sweet dark red flesh, introduced 1897. Thin rind, good for the garden. PKT. $1
--WATERMELON SUGAR BABY (C. vulgaris) Round about 8 inches in diameter, 6-12 pounds, red-orange flash, developed about 1959. PKT. $1


---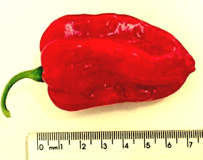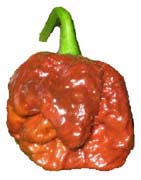 Pepper Brazilian Red Gigantic Habanero....Craig's Champion™ Chocolate Habanero


---
Updated January 3, 2019 - Complete catalog here of over 80 pepper seeds