---

Floods and Droughts in Pakistan, India, Bangladesh and Arabia with the New Torrential Rainfall Events caused by Global Warming interacting with the Pakistan-Arabia Atmospheric Dust Cloud influences.

After a 5,500 year absence, the increase in annual rainfall and monsoon moisture could cause ancient rivers to flow and the grassland-savannas to regrow in Arabia.
---

Copyright © 2014, 2016, 2017 by Craig Dremann, co-owner of the
Reveg Edge, P.O. Box 361, Redwood City, CA 94064 USA - (650) 325-7333 - email
This web page is Part 2 of "Cooling a planet with Revegetation, with special attention to the Arabian Peninsula, and a method to significantly increase water resources of the area--Choices for the Arabian peninsula--arid or abundance?" http://www.ecoseeds.com/cool.html
---
Since 1985 there has been rapid and permanent change in the rainfall patterns of Arabia, barely noticed or reported outside of the areas that have been impacted by the increased rainfall and floods, and seemingly overlooked by most climatologists and meteorologists.
Several thousand years ago, prior to the time before humans domesticated grazing animals like camel, sheep, goats and cattle, the area from western India, Pakistan and Arabia was covered with a savanna-grassland with rivers, lakes, freshwater marshes and waterfalls.
When the perennial native grass and wildflower cover and savanna trees of the area were removed by the domestication of grazing animals and the area changed to desert.
When people started protecting flocks of grazing animals from natural predators, and eventually drove the predators to extinction, then grazing animals who eat the native grasses were able to multiply beyond what the grassland ecosystem could reasonably sustain.
When the grasslands were destroyed, the vegetation cover was no longer there to cool the soil surface, so that clouds were no longer able to form and rain on those lands during the summer monsoons. Within a short amount of time, perhaps only a few human generations, the climate went from savanna-grasslands to barren desert.
When the perennial native grass and wildflower cover was grazed away, it exposed the bare soil, and that soil started getting airborne, which produced a Dust Cloud hovering over Pakistan and Arabia each year.
A similar Dust Cloud event happened in the United States from Texas to Colorado in the 1930s, and it was called the "Dust Bowl", which lasted only a decade, because those areas were replanted with vegetation in the 1940s. If in the USA, the 'Dust Bowl" millions of acres had not been replanted, those Dust Cloud conditions could have been made a permanent part of North America, just like the Dust Cloud has existed for thousands of years in Pakistan to Arabia.
The "Dust Bowl" conditions from Pakistan to Arabia, have lasted for about 5,500 years. While the dust cloud strength has been about the same for thousands of years, a change occurred in 1985 when global warming strengthened the atmospheric moisture and has been able to break through the Dust Cloud wall.
The normal rainfall pattern for Arabia was described in the book "Unknown Oman" by Wendell Phillips (1966):
For centuries, with the exception of Salalah in Oman, the annual rainfall of Arabia has been consistently low each year, as described by Phillips (page 217), "Two or three hours of heavy rain a year means a good year whereas farther north in the dunes thirty to forty minutes of rain in one solid shower will moisten the sands sufficiently to produce adequate grazing for a period of twelve months."
Phillips writes that the exception in Arabia, is the area around Salalah in Oman, (page 168-9) "the narrow half-moon shaped coastal plain of Dhofar is an abnormal feature in this otherwise arid South Arabian coast the monsoon from which Dhofar derives its unique climate, with its inflow of fog and drizzle summer rain yields five inches on the coast and fifteen inches in the mountain.
"The Qara Mountains rise steeply to the north, limiting the coastal plain to a maximum width of ten miles. Within these mountains lovely secluded little lakes and gorges rich with tropical ferns and running streams. Sycamore, myrtle, white jasmine, and acacia trees abound."
Phillips also writes about unusual torrential rainfall events (page 164) only hitting Arabia twice in 600 years prior to 1890, the cyclonic storms of 1286, and 1325. Then on June 4, 1890, twelve inches of rain fell in 24 hours throughout Oman, killing 700 people and uprooting over 100,000 date palms. When Phillips was in Oman in late January 1958, heavy rains caused great damage across the county.
So from 1200 and 1889, two torrential rainfall events occurred in Arabia, then from 1890 to 1958, there were two more events.
Currently torrential rainfall evens in the Arabian peninsula are occurring annually to several times a year.
For five thousand years, the Pakistan-Arabia Dust Cloud was able to kill the rain clouds before they formed over Arabia during the monsoon season, but the increase in monsoonal moisture due to global warming is overwhelming the Dust Cloud.
Additionally, an ancient moisture pattern in spring March to June is beginning again after a several thousand year absence, originating from South America through central Africa, and then moving north to the west coast of Arabia. This pattern coupled with the East Indian monsoon moisture, may have been the cause of the Biblical flood story, occurring in Arabia from April to June for 40 days and 40 nights, many thousands of years ago.
And on June 2, 2012, the air temp. of the Holy city of Mekkah reached a new record of 124.5°F, and two days later rain fell when the air temperature was 109°F. (43°C), so the summer rainfall is returning to Arabia, despite the Dust Cloud and despite the heat, and the rain that fell on June 4th was about 100° F. by the time reached the ground. (www.wunderground.com/blog - Hottest rain falls at 109° F in Saudi Arabia)
The first part of this discussion at http://www.ecoseeds.com/cool.html traces the flood events from 1985 to 2013, and I will pick up the flood events from 2013 forward here:
---
2013
January 27-29 = KSA Tabuk, floods caused by a new storm track coming from the south, from the East coast of Africa.
March 21-26 = KSA southern Jazan province, three swept away in floods (Saudi Gazette) http://www.saudigazette.com.sa. Several roads were flooded or damaged in heavy rains that lashed Jazan region, again from the new storm track from Brazil, and Yemen reports six people died in Hadramout governate, with the Dawan, Wadi Al-Ain, Al-Qatan, Shebam, Tareem, Sah and Sayoon areas were all partially under water due to the floods. Roads in Al-Soairi and Moshtaa areas are still blocked (Yemen Times), with a total of 19 killed at http://www.yementimes.com/en/1664/news/2174/Flooding-continues-death-toll-rises.htm.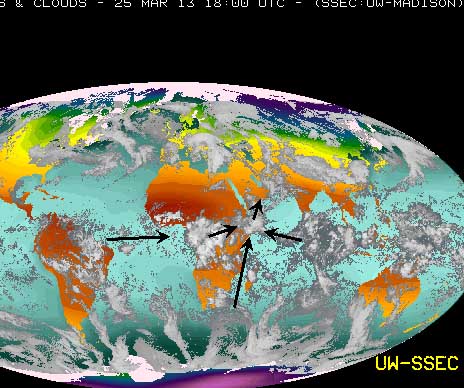 In 2013, new spring storm tracks are bringing floods to the Arabian peninsula, filling valleys with flood waters, in the wadis that have not seen flowing waters for centuries.
April 26-30 = Oman floods at https://www.youtube.com/watch?v=1xMHzzL4j6M.
May 2-7 = KSA and Oman 25 people died and four missing in KSA flash floods, highest rainfall in 25 years.
August 14-September 16 = Yemen floods, at least 50 killed, including a wedding party at http://reliefweb.int/report/yemen/yemen-floods-august-september-2013-situation-report-no-4-16-september-2013
November 15-26 = Kuwait floods, heaviest rain in 61 years, floods in Saudi Arabia to Qatar at http://www.army.mil/article/117624/Soldiers_in_Kuwait_bond__mops_up_after_biggest_rainfall_in_61_years/ Riyadh one killed when capital flooded, floods in UAE, huge area of Kuwait underwater, Oman, and Bahrain with severe flooding in some areas.
2014

January 5-7 = KSA Hail flood 3 dead, Riyadh, Taif, Eastern province and UAE flooded.
February 12-13 = Oman, Muscat flooded Baushar and Ansab districts in Muscat received 50 mm rains while Ghubra recorded 45 mm rains and the Amarat suburb on the eastern side of Muscat recorded 70 mm rainfall while Seeb received 60 mm rainfall, according to Oman Weather Updates at http://gulfnews.com/news/gulf/oman/rains-flood-streets-in-muscat-1.1290446.
March 10-12 = KSA 7 killed in floods..
March 13-27 = Oman floods in Nizwa, six dead, floods in Qatar, Doha at https://www.youtube.com/watch?v=Zq3P62gBpvs and at http://floodlist.com/asia/6-dead-flooding-oman
The highest rainfall, 415 mm, was recorded in the Niyabat of Lima of Khasab. (Gulf News), March 14-17 UAE floods in Sharjah and Fujairah. UAE Dubai floods March 26 at http://floodlist.com/asia/heavy-rain-floods-dubai. Also flooding in Sinai, Egypt on March 22-23 at http://www.youtube.com/watch?v=TM1AieCPJFE.
April 22 = Oman flooding.
May 9-10 = KSA Makkah and Hail flooded, 2 killed at https://www.youtube.com/watch?v=V-Y6Gqq2o2Q
May 9 = Israel had "Biblical rains" flooding the desert near Dead Sea, also in Sinai, Egypt flooding at http://www.jpost.com/National-News/Late-spring-rain-brings-Israel-to-a-halt-351631
Dr. Baruch Ziv, a climate scientist at the Open University, told the Post. Lightning frequency was very high, a typical component of tropical storms, and the intensity of the rains were extreme, Ziv added.
The strong storms carried with them widespread thunder and lightning and drenched the country with rain almost nonstop from Wednesday night through Thursday morning, IMS data, provided by Porat, said. Up until Thursday afternoon, the largest amount of rains fell in the Shfela region, with about 50-80 mm. accumulating there. In most monitoring stations stretching from the North to the northern Negev, between 20-50 mm. piled up, the data said.
The station at Tzora, in the Mateh Yehuda Regional Council, received 82 mm. of rain, the maximum amount of rain accumulated in a single May day in Israel since 1963, when 93 mm. fell in Afula, according to IMS.
"This event was exceptional or even unique for May," Ziv said. "I think that there was not even one rain station in Israel that didn't get rain."
May 12 - Kuwait floods, kills three, torrential rain in capital, check Youtube for clips. May 2-7 = KSA and Oman 25 people died and four missing in KSA flash floods, highest rainfall in 25 years. August 14-September 16 = Yemen floods, at least 50 killed, including a wedding party (http://reliefweb.int/report/yemen/yemen-floods-august-september-2013-situation-report-no-4-16-september-2013) November 15-26 = Kuwait floods, heaviest rain in 61 years, floods in Saudi Arabia to Qatar (http://www.army.mil/article/117624/Soldiers_in_Kuwait_bond__mops_up_after_biggest_rainfall_in_61_years/">http://news.kuwaittimes.net/heavy-rainfall-flash-floods-hit-kuwait
July 3 - Saudi Arabia - Floods and heavy rains cause chaos (several Youtube videos by Reza Afshar including a wall of water at Vadi Fija).
2015 (from floodlist.com)
March 23-27 - Saudi Arabia - Floods and heavy rains kill eleven with three missing.
September 4 - Oman - Flash floods kill four, one missing.
October 14-19 - Oman - Heavy rains caused flash floods, kills 7, with record rains of 104 mm in city of Ibra.
October 30 - Saudi Arabia, Iran, Iraq - heavy rains and floods over three days 19 died flash floods in the northern parts of the country. Also floods in Israel, Lebanon and Kuwait.
November 4 - Yemen - Cyclone Chapala three dead, 35 injured, 40,000 homeless. See Youtube "Flood suddenly goes out of control" by Cam Carretera.
November 17 - Saudi Arabia deadly floods in Jeddah, Makkah, 12 dead.
November 25 - Saudi Arabia, Qatar one dead after Qatar has one year's worth of rain, 80 mm, in one day.
2016
January ­ KSA ­ Snow reported between Mecca and Medina for the first time in 85 years.
February 17-21 - Saudi Arabia ICE-"flash floods" or heavy hailstorm for first time, as well as torrential rains in Iraq and Iran.
March 8-10 - UAE torrential rains brings country to a standstill, considered "rare."
March 14 ­ UAE and Oman flash flood and mudslides from thunderstorms. Rainfall averaged 1-3 inches (25-75 mm) with local amounts up to 5 inches (125 mm), with the storms continuing towards Pakistan, Afghanistan and India .
March 25 - Oman, UAE = Heavy thunderstorms produce downpours.
April 8-15 - Saudi Arabia, Yemen, Iran, Iraq and Oman, flash floods kill 40, traffic chaos in Riyadh. Many Youtube examples.
May 23-24 ­ Yemen ­ Heavy rains caused landslides killing 20.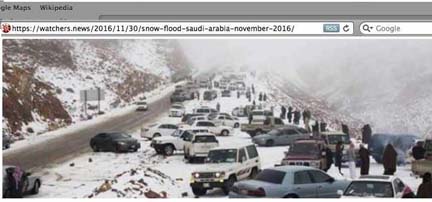 November 2016 Saudi snow storm photo from Watchers News
July 31-August 3 - Yemen flash floods kill 8, heavy rains in Sana, sweeps away cars, crops.

November 23-30 ­ KSA snow, then heavy rains, thunderstorms and floods, cars washed away in wadis, motorists caught by floodwaters, Riyadh flooded, in cities like Buraidah the rainfall uncovered insufficient drainage systems, 7 died.
2017
January 23-25 - Oman heavy rain and flash floods, four killed, 200 homeless, properties destroyed by swollen wadis, people rescued by helicopters from their rooftops and from on top of their cars. Snow storm blasts UAE.

February 3 ­ DUBAI-extreme weather floods the Palm Isalnd.

February 13-17 ­ KSA One died in floods in Asir Region, train derailed near Dammam, three month's worth of rain in 24 hours, breaking a 100 year old record, called an "apocalyptic" storm and the "Great Flood" - people panicked that the rainfall was a "sign from God". Oman flooding including the Muscat International airport, some Oman areas 60-90 mm of rain in 24 hours, wadis flooded. Two weeks earlier, a snowstorm blasted across the UAE.

March 19-27 ­ KSA flooding by intense downpours, thunderstorms in central KSA, Oman, Qatar, UAE, Kuwait, Iran and Iraq.

May 17 ­ KSA Violent floods in Fulda ­ Mecca. Several YouTube videos.
July 11 - Oman massive flash floods, many YouTube videos, gave birth to rivers in normally dry wadis.


---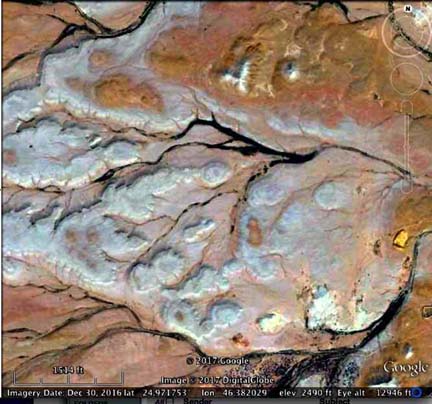 Google Earth image from 50 miles NE of Riyadh, showing an example of the area north and south of Riyadh that was within historic times, a lush grassland and open forest fed by hundreds of streams and rivers that flowed year-round, and were from 1-3 meters to about 10 meters deep.

The summer temperatures currently have daytime highs of 115 deg. f. and 90 deg. F. nights, and if the native grasslands and other native vegetation were back covered the land, the temperatures would probably be between 80 and 90 degrees F. all through summer, more like Salalah, Oman is today.
---
Updated July 25, 2017. Back to Craig Dremann's main Contents page.